16 Feb

FUJIFILM IRVINE SCIENTIFIC SUED OVER RECALLED "TOXIC" OIL THAT KILLED PATIENTS' EMBRYOS; MANY MORE LAWSUITS COMING

Leading Fertility Attorney Adam Wolf: "Every IVF Patient Needs to Act Now"; Globally Recalled Oil Was Distributed to Clinics Around the World.

LOS ANGELES, CA – FEBRUARY 16, 2023 – Fertility patients filed a lawsuit against FUJIFILM Irvine Scientific over oil used for in vitro fertilization (IVF) procedures that turned out to be toxic and killed the patients' embryos. The company recalled multiple batches of the toxic oil in an "Urgent Field Safety Notice" on January 16, which was sent to fertility clinics but not released publicly.

The lawsuit was filed in the Superior Court of California in Orange County by Adam Wolf of Peiffer Wolf Carr Kane Conway & Wise ("Peiffer Wolf") on behalf of the patients, who live in Los Angeles and wish to remain anonymous to protect their privacy.

Adam Wolf, partner at Peiffer Wolf, said: "Every IVF patient needs to act now to make sure their embryos have not been exposed to FUJIFILM Irvine Scientific's toxic oil. It's outrageous that Irvine Scientific hasn't been more transparent about the scale of this disaster and unforgivable that it hasn't made the recall notice publicly available to fertility patients. Given that the company is a top global supplier of the oil used in all IVF embryo cultures, patients need to contact their fertility clinic – or attorney – as soon as possible."

Adam Wolf, one of the country's leading fertility lawyers, held a news event to alert the public about the global recall and discuss actions patients should take to ensure their embryos are not harmed. Toxic oil from the affected batches was delivered to clinics around the world. The notice, issued on January 16 and affecting a significant number of patients globally, was not initially released publicly or posted online by FUJIFILM Irvine Scientific. Peiffer Wolf has now made the notice available to the general public: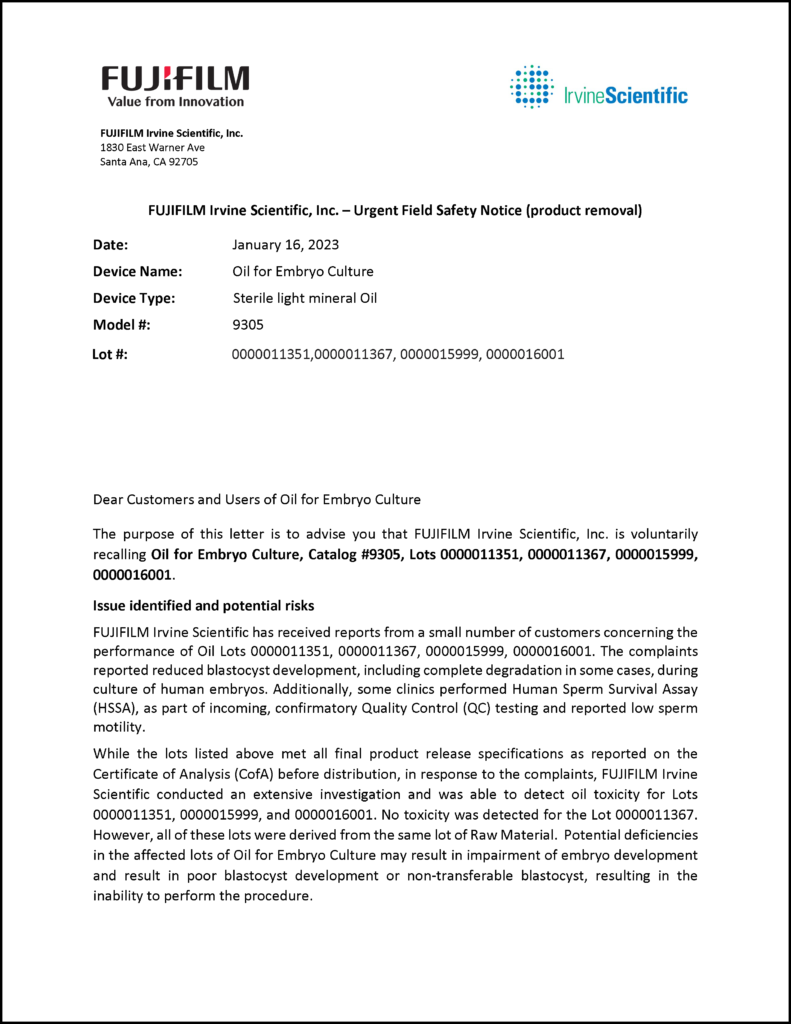 FUJIFILM Irvine Scientific is one of the largest manufacturers in the world of oil used for IVF procedures. While the recall notice claims, "to the Company's knowledge, we have no reports of any known patient death or serious injury associated with the affected lots," Wolf stated that since the first clients reached out about their embryos that perished, many other couples and individuals have stepped forward with similar experiences. "This is just the tip of the iceberg," Wolf added.
Ashlie Sletvold, partner at Peiffer Wolf, said: "Several additional patients have reached out to us about their embryos that were killed due to contact with the toxic oil. FUJIFILM Irvine Scientific clearly wants to downplay the scope of this disaster, but the lack of information threatens to make the situation worse. The company should have publicly posted this urgent and crucial recall notice to inform all potentially affected patients."
The lawsuit states that shortly after Irvine Scientific issued its recall notice, the Los Angeles-based patients were informed by their fertility clinic that the oil that killed their embryos was part of the recalled oil batches. They are devastated and may no longer be able to have children with their own genetic material as a result.
During IVF, oil protects the embryo being cultured. It prevents the embryo from drying out and stabilizes its temperature, pH and osmolality. Problems with oil can directly lead to several harmful outcomes, including destruction of the embryo.
Peiffer Wolf currently represents many additional people whose embryos were lost after coming into contact with FUJIFILM Irvine Scientific's recalled oil. Their lawsuits will be filed in the coming weeks.
###
DOWNLOAD THE PRESS RELEASE: CLICK HERE
DOWNLOAD COMPLAINT: CLICK HERE
###
MEDIA CONTACT: Max Karlin at (703) 276-3255 or [email protected].
ABOUT PEIFFER WOLF CARR KANE CONWAY & WISE
Peiffer Wolf Carr Kane Conway & Wise is a national law firm with offices in Los Angeles, San Francisco, New York, Chicago, New Orleans, Cleveland, Youngstown, and St. Louis. Visit lostembryos.com for more information.